The Intelligence Community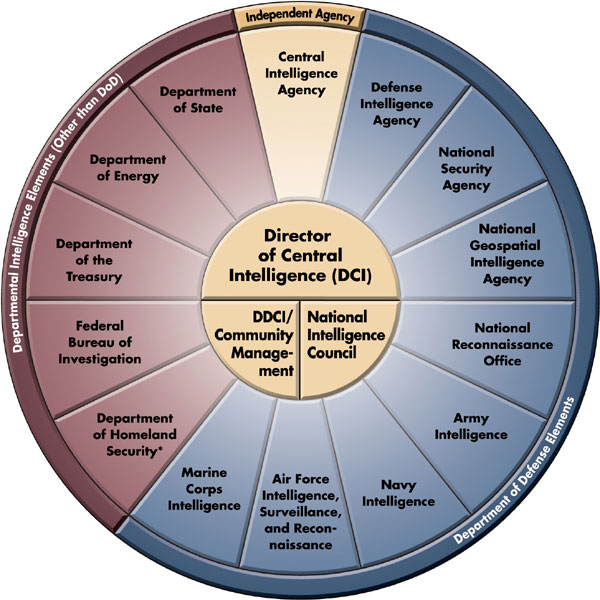 The person who is Director of Central Intelligence is simultaneously Director of the CIA and the leader of the Intelligence Community, of which CIA is one component. The Intelligence Community refers in the aggregate to those Executive Branch agencies and organizations that conduct the variety of intelligence activities which make up the total U.S. national intelligence effort. The Community includes the Central Intelligence Agency; the National Security Agency; the Defense Intelligence Agency; offices within the Department of Defense for collection of specialized national foreign intelligence through reconnaissance programs; the Bureau of Intelligence and Research of the Department of State; Army, Navy, and Air Force intelligence; the Federal Bureau of Investigation; the Department of the Treasury; and the Department of Energy. Members of the Intelligence Community advise the Director of Central Intelligence (DCI) through their representation on a number of specialized committees that deal with intelligence matters of common concern. Chief among these groups are the National Foreign Intelligence Board and the Intelligence Community Principals' Committee, which the DCI chairs.
* The Homeland Security Act of 2002 (Public Law 107-296) amended Section 3(4) of the National Security Act of 1947, designating those "elements of the Department of Homeland Security (DHS) concerned with the analyses of foreign intelligence information." The President further defined those portions of DHS that are considered IC elements by amending Executive Order 12333, Sec 3.4 (f)(8) including within the IC only those elements of DHS that are supervised by the Under Secretary for Information Analysis (with the exception of those functions that involve no analysis of foreign intelligence information) The Department of Homeland Security includes the United States Coast Guard.