Do Not Call Registry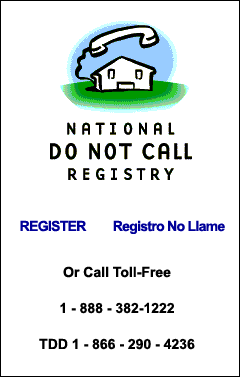 The National Do Not Call Registry is back taking your telephone number submissions after a federal appeals court on October 7 allowed the program to continue. California Attorney General Lockyer led a 46-state effort urging the court to allow the National Do Not Call Registry to resume operation immediately.

California consumers who have not already registered their phone numbers may do so on-line at the Federal Trade Commission's National Do Not Call Registry. Use the links provided in the registration box.

In addition to Internet no-call registrations, the FTC will be taking telephone sign-ups. You must call from the telephone whose number you want to register.

Earlier this year, the Attorney General offered Californians an easy way to pre-register for this national no-call list. Now, more than 6 million Californians have joined the National Do Not Call Registry. The registration is good for five years, unless you change your telephone numbers.

Telemarketers have up to three months from the date you register to remove your telephone number from their list and stop calling you. More information on the National Do Not Call Registry.

California consumers are encouraged to file complaints with the FTC if telemarketing calls are received on phone numbers placed on the National Do Not Call Registry before September 1, 2003. Use the on-line links on this web site to file your complaint. Checklist for Complaints.

Whether participating in the National Do Not Call Registry or not, you can stop companies from calling you by telling them you do not wish to be called. Company-specific do not call rules still apply to all telemarketing calls, including those made by companies with which you have done business. For other ways to stop unwanted telemarketing calls, see our Consumer Tips.

Unfortunately, there have been some who have tried to take advantage of consumers so you should be careful and check the legitimacy of Do Not Call lists to protect your privacy and personal information. The California Attorney General already has shut down a bogus operation where scam artists sought to take illegal advantage of consumers. The FCC also has issued a consumer alert on identity theft scams taking improper advantage of Do Not Call registry programs.