AMBER Alert
America's Missing: Broadcast Emergency Response Alert, or AMBER Alert, is an innovative program established statewide in California that partners the state's law enforcement community, media broadcasting agencies and the public in locating abducted children. It provides the public with immediate and up-to-date information about a child abduction via widespread media broadcasts and solicits the public's help in the safe and swift return of the child. AMBER Alert is a key component of the California Child Safety Amber Network, a comprehensive plan that provides for a coordinated and rapid response to child abductions throughout California. One of the most important aspects of AMBER Alert is the partnerships formed between the local law enforcement officials and media broadcasters, who are working together to establish an AMBER Alert plan specific to each community's needs.

Items are available for downloading as a PDF document, in either high speed Internet connection (such as: DSL, Cable Modem) or dial-up modem speed connection (such as: 56k Modem or below).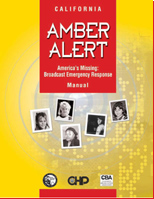 Tri-fold AMBER Alert Public Guide [PDF 63k 2pgs] explains criteria for AMBER alerts and offers tips on how the public can help and what parents can do.

Prepared by the Attorney General's Office with assistance from the Governor's Office of Emergency Services and the California Highway Patrol, this manual provides law enforcement and the media with the framework needed to develop and implement successful regional AMBER Alert plans and guides to strengthen existing local plans for finding abducted children. Downloand entire AMBER Alert Manual [PDF 578k 41pgs] or View/Print by sections [recommended for dial-up modems]
This Manual outlines the protocols and steps required for law enforcement agencies to initiate an AMBER Alert in their community, region and statewide. This Manual provides information about the Emergency Alert System and how to transmit photos, images and messages to law enforcement, the media and the public. It also contains samples of local child abduction emergency plans.
AMBER Alert Activation Field Guide [PDF 88k 6pgs]

This Guide is designed as a reference summarizing the key steps to be taken by law enforcement when activating an AMBER Alert. Law enforcement agencies are encouraged to copy and distribute this Guide for use by personnel in the field and for general training purposes.