Office of the Attorney General
Bill Lockyer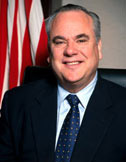 Californians reelected Bill Lockyer as their 30th Attorney General in November 2002. Lockyer continues working to protect the people's personal, civil and economic rights, thus furthering the goal that no one is denied the tremendous opportunities promised by the California Dream.

A native Californian and former teacher, Lockyer inverted his predecessors' history of being the state's "Top Cop." He streamlined the department's resources to better support California's 90,000 front-line officers with specialized services like forensic analysis and homeland security intelligence. Reversing the traditional top-down role of the Department of Justice means public funds are more efficiently used and law enforcement is better able to do its job

Lockyer draws upon his 25 years as a state Legislator in enforcing California laws and pursuing justice. Lockyer's no-nonsense approach to solving crimes and stopping criminals includes an exponential increase in the use of DNA technology. Prior to 1999, the state's DNA databank was not much more than a mailing address where DNA samples sat unprocessed. Rapes with no suspect remained unsolved, unknown bodies remain unidentified, and criminals escaped justice. Today, the Attorney General's Office maintains the largest working database in the country. Criminals are paying for crimes they thought time forgot as the department matches one suspect to one unsolved crime each day. As president of the National Association of Attorneys General, Lockyer also has been focusing attention on important developments in technology and crime fighting.

Lockyer refuses to tolerate those who prey upon our newest neighbors or those perceived as different. To ensure protections are accessible to all Californians, Lockyer opened the Office of Immigrant Assistance, created a Civil Rights Unit, fought to protect the Americans With Disabilities Act, established Rapid Response Protocols for hate crimes, and prosecuted immigration consultant fraud.

Californians expect clean beaches, breathable air, unpolluted water, and majestic forests. During his tenure, Lockyer has revived the once dormant environmental sections of the office that aggressively defend our tremendous natural resources.

A healthy economy is vital to California's international prominence. However, business misdeeds and corporate wrongdoing have no place in a fair market. In addition to pursuing hundreds of suits against energy raiders, the Department of Justice has successfully gone after predatory lenders, miscreant title companies, deceptive credit card marketers, and living trust mills. These actions yield billions in restitution for consumers, civil penalties, money to fund consumer protection programs, and injunctive relief that prevents further harm to consumers and the marketplace.

One law enforcement accomplishment cannot be quantified: prevention. Lockyer initiated a number of new crime-curbing measures such as inspecting nursing homes for high quality of care, breaking the cycle of violence by reducing children's exposure to violence, and offering mediation services for communities in conflict. These initiatives save future prosecution tax dollars and spare families a crime victim's pain.

A graduate of the University of California, Berkeley, Attorney General Lockyer earned his law degree from McGeorge School of Law in Sacramento while serving in the State Senate. He also received a teaching credential from California State University, Hayward. Lockyer's wife, Nadia, is a civil rights and public education attorney. Lockyer has a daughter, Lisa, an attorney who works in the Development Office at NASA Ames Research Center, and a son, Diego.